MGA COLONY PORTRAITS

If you own a "MGA" Gouldian finch, you can check out their parents here. All our Gouldians are line bred back to Red Head Cock 1. Our Gouldians are available for sale each January.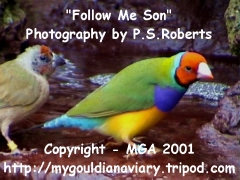 Yellow Head Cock 25 "Bluey" Fledged 9 June 1997
The juvenile following is actually,
Red Head Hen 64 Fledged 7 Feb 2001.